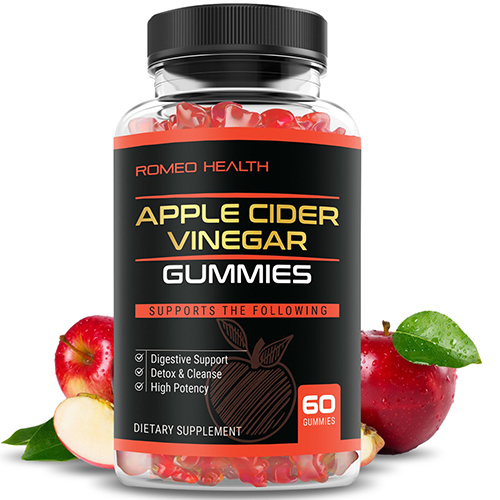 ROMEO HEALTH APPLE CIDER VINEGAR GUMMIES
🍎 FLUSH AND DETOXIFY – Want to safely and naturally cleanse your body?  Romeo Health Apple cider vinegar gummies is rich in natural compounds that help eliminate toxins & improve digestive health naturally. These ACV gummies are perfect for detoxing, cleansing & bloating relief.
🍎A SUPERFOOD GUMMY TO SUPPORT YOUR HEALTH GOALS. Apple Cider Vinegar has been hailed as a home remedy for ages. Studies have shown Apple Cider Vinegar can provide a wide range of powerful whole-body health benefits like healthy digestion, weight management, increased energy, and immune support, while also relieving symptoms like heartburn, bloating, and more.
🍎SUPPORTS HEALTH & IMMUNITY: Our ACV gummies work to support healthy digestion, weight management, increased energy levels, reduced appetite, and aid your natural immunity – all within a great-tasting gummy.
🍎GREAT APPLE TASTE – The full benefits of Apple Cider Vinegar packaged in a delicious gummy. Enjoy getting your Apple Cider Vinegar daily without the acid reflux caused by pills and liquids! Each Gummy is 500MG of organic apple cider vinegar, taken twice a day for a full months supply in one bottle!
🍎SAFETY & QUALITY ARE OUR TOP PRIORITY – Romeo Health prides itself on delivering vitamins and supplements at the highest degree of quality while also being completely safe for all consumers. Romeo Health is USDA Organic, entirely non-GMO, eco-friendly, gluten free, and gelatin free in a pectin base gummy. Romeo Health products are manufactured in a GMP-certified and FDA approved facility.